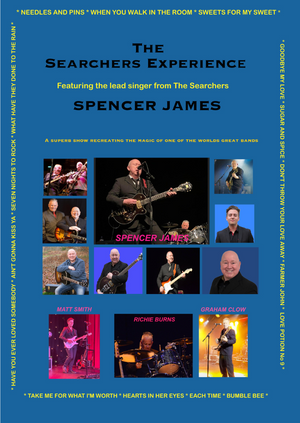 The Searchers Experience
10th Feb 2024
19:30 - 21:30 GMT
Add to Calendar
Event Details
Spencer James was the lead vocalist and guitarist with 60s legends The Searchers for 37 years before the band's retirement in 2019.
The Searchers reached no 1 on three ocassions with Sweets for my Sweets, Don't Throw Your Love Away and Needles and Pins and they came close on a fourth occasion with When you Walk in the Room - and performed in most just about every prestiguous venue in the world, including Wembley Stadium (with Sir Cliff Richard), London Palladium, Royal Albert Hall and Madison Square Gardens .

Since the Searchers retired, Spencer has been touring with his own band, The Spencer James Band who have just ended touring the UK on the 60s Gold Tour with Hermans Hermits, Marmalade, Steve Ellis of the Love Affair and Dave Berry, 
For one night only Spencer James along with drummer Richie Burns will be performing and chatting about life with supergroup The Searchers with the Spencer James Band performing all 15 hits from the music of the sensational 60s.