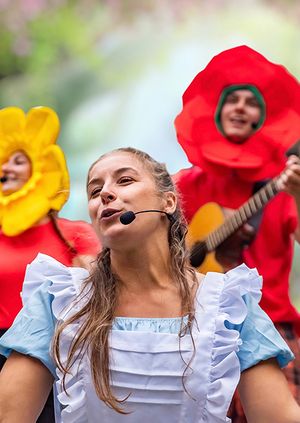 Alice in Wonderland - filled with live music and puppetry!
17th Feb 2024
13:30 - 14:30 GMT
Add to Calendar
Event Details
Alice, a young, curious girl, follows a white rabbit down a rabbit hole and ends up in Wonderland! There, she begins on an adventure she will never forget. Come along and meet some of the strangest and most peculiar characters, including the mysterious Cheshire Cat, the Wacky Mad Hatter and the foul-tempered Queen of Hearts! Filled with live music and puppetry, it's the perfect show for the whole family!
"Humour, ad libbing and audience participation is top notch'

"My Toddlers first theatre experience today and he loved it!'
"Poignant, Funny, engaging, brilliant songs, so cleverly crafted in every way"