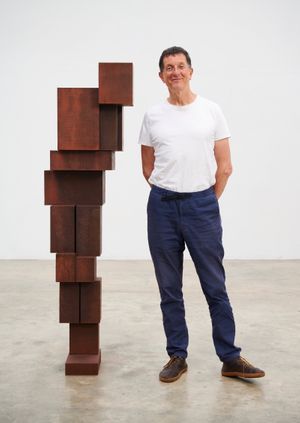 CHAT 7: Antony Gormley in conversation with Professor Stephen Bann CBE, FBA in collaboration with Project Factory
3rd Apr 2022 19:00 - 21:00
Add to Calendar
2022-04-03 19:00:00
2022-04-03 21:00:00
Europe/London
CHAT 7: Antony Gormley in conversation with Professor Stephen Bann CBE, FBA in collaboration with Project Factory
The concept of the CHATS series is inspired by the arrival of Antony Gormley's DOUBT 2020 and part of the Gormley Project educational outreach offering free tickets to students.The CHAT series is kindly supported by the Blair Foundation and Terence Mordaunt and In collaboration with Project FactoryPerhaps best-known for his gigantic 200-ton Angel of the North near Gateshead and his project involving 2,400 members of the public for Trafalgar Square's the Fourth Plinth, Antony Gormley is one of the UK's most celebrated sculptors. His new work DOUBT is installed on the West Front of Wells Cathedral. Antony Gormley will be in conversation with Stephen Bann CBE, Emeritus Professor of History of Art at the University of Bristol. There will be live music in the foyer from 7.00pm, the talk will start at 7.30pm.A  light post talk supper is available for an additional £10, please add this to your basket when choosing your ticket. If you have any dietary requirements please let us know on [email protected] you are unable to come in person, you can watch the talk via our livestream link - simply choose the livestream option when buying your ticket. https://tickets.cedarshallwells.co.uk/events/36785/chat-7-antony-gormley-in-conversation-with-professor-stephen-bann-cbe-fba-in-collaboration-with-project-factory
15 The Liberty, Somerset, Wells, BA5 2ST
Event Details
The concept of the CHATS series is inspired by the arrival of Antony Gormley's DOUBT 2020 and part of the Gormley Project educational outreach offering free tickets to students.
The CHAT series is kindly supported by the Blair Foundation and Terence Mordaunt and In collaboration with Project Factory
Perhaps best-known for his gigantic 200-ton Angel of the North near Gateshead and his project involving 2,400 members of the public for Trafalgar Square's the Fourth Plinth, Antony Gormley is one of the UK's most celebrated sculptors. His new work DOUBT is installed on the West Front of Wells Cathedral. Antony Gormley will be in conversation with Stephen Bann CBE, Emeritus Professor of History of Art at the University of Bristol.
There will be live music in the foyer from 7.00pm, the talk will start at 7.30pm.
A light post talk supper is available for an additional £10, please add this to your basket when choosing your ticket. If you have any dietary requirements please let us know on [email protected]

If you are unable to come in person, you can watch the talk via our livestream link - simply choose the livestream option when buying your ticket.