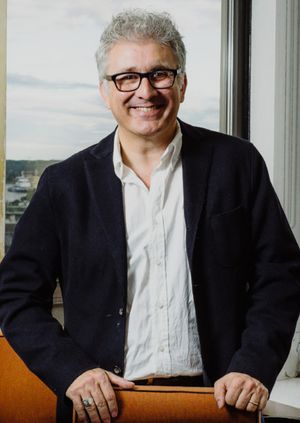 CHAT 6: Randall Wright – Filming with Artists in collaboration with Project Factory
10th Mar 2022 19:00 - 21:00
Add to Calendar
Event Details
The concept of the CHATS series is inspired by the arrival of Antony Gormley's DOUBT 2020 and part of the Gormley Project educational outreach offering free tickets to students.
The CHAT series is kindly supported by the Blair Foundation and Terence Mordaunt and In collaboration with Project Factory
For March's CHAT (Cedars Hall Art Talk), the award-winning filmmaker Randall Wright shows clips of his work and talks about the challenges of documenting the lives of major cultural figures such as Maggi Hambling, Picasso, Lucian Freud, Doris Lessing, David Hockney, John Le Carre and his current subject, synth pop star Gary Numan. How is the story of their creative lives or even the routine of their everyday lives relevant to their art? Should personal relationships or transgressions define them as artists? And what is the future of arts documentary in a media landscape permanently changed by new online forms?
There will be live music in the foyer from 7.00pm, the talk will start at 7.30pm.
A light post talk supper is available for an additional £10, please add this to your basket when choosing your ticket. If you have any dietary requirements please let us know on [email protected] Please note sales for supper tickets end a week before the event.
If you are unable to come in person, you can watch the talk via our livestream link - simply choose the livestream option when buying your ticket